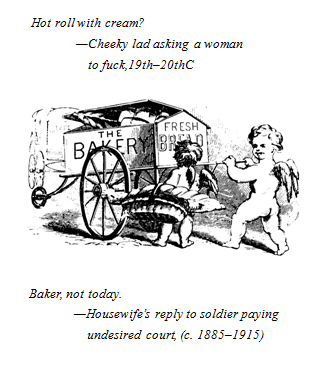 The Straight Up-and-Up
Tired of the  daily  grind  (19th–20thC), bored  with  doing  the  hori- zontalize (c. 1845)?  Not  to worry. We've  got more  ways  of doing it than Heinz  has  pickles;  more flavors than Baskin-Robbins. Why settle  for just vanilla sex  (1990s)?
You can  try  it nestled together spoon  fashion  (19thC), or,  if you're really game, attempt a perpendicular (mid 19thC), also known  as an  upright  grand  (c. 1925).  It's nothing more  than the old  three-penny bit (late  18th–20thC)—what the girls on the cor- ner once  featured as their standing bargain.
Though  a somewhat shaky  proposition, your standard knee- tembler (c. 1860),  otherwise known  as a quickie (20thC), was the perfect  answer to the man  on the run.  Ever a favorite  of the pros,  it has  failed to catch  on at home.  According  to Kinsey,  only four per- cent of married woman say that  they would  stand for it.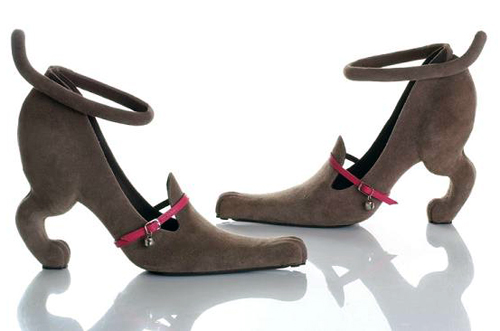 Impatient to get on with it? You might try having a dog's  mar- riage  (19thC)  or  making a  dog's  match   of  it  (19th–20thC)— doing it by the  wayside, down  and  dirty.  It, however, just  might take  longer  than you  think.  Dogs  have  been  known  to  be  linked together for hours on  end  after  the  sexual act.  The penis swells, and  the  muscles of the  female  contract, locking  the  penis within; thus  insuring that  not till death will they part.
It's a  tough  act  to  follow,  but  you  could  possibly  try doing a dog's  rig (mid  18th–19thC), defined  by  Grose  as  "sexual inter- course to exhaustion followed by back-to-back indifference."
Read more – Bawdy Language – http://bawdylanguage.com