The Author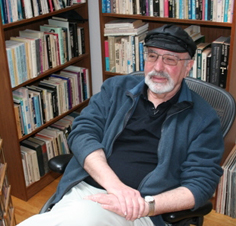 By day, Lawrence Paros is a master teacher whose work in alternative education has received national recognition; a neuroscientist who has helped design and market a unique device for the treatment of stress, and a self-described authority on language. His published works include numerous articles and a book on education, two earlier books on language, The Great American Clichè (Workman) and The Erotic Tongue (Madrona and Holt), and Smashcaps, a children's book (Avon). He is also a former op-ed page columnist for the Seattle Post Intelligencer and commentator on KUOW-FM, the NPR affiliate in Seattle.
His old Web site, A Word with You, has garnered numerous awards and attracted more than a million visitors since its inception. It has also inspired two published volumes (A Word with You America). As a filmmaker he produced and directed The Journey, the story of an immigrant's trek to America and Walk Right In, the story of the other Yale.
By night, Paros travels where few etymologists have gone before-down the highways and byways of the underworld of language searching for evidence of humanity's struggle with its sexual persona. During these forays, he has managed to flush a variety of exotic species out of their hiding places and into the open-slang words, rich and colorful; euphemisms, flowery, arcane, and remote; and quaint sexual terms rescued from English past. He has assembled them together in to a single erotic tongue-Bawdy Language-and introduced it to the world as the new lingua franca.


For more information go to the Author's Media Kit
His work has been informed and shaped by Dr. Celestial Bawdy, the esteemed scientist of human behavior who mysteriously vanished more than 150 years ago, and, after a brief sojourn in the nethersphere, suddenly reappeared on earth to share his life's work with Paros.
An accomplished public speaker, Paros has had extensive teaching and lecturing experience; in the course of promoting his earlier works, he has been interviewed on dozens of TV shows and over 100 radio stations.
A cantankerous septuagenarian, he lives quietly on the periphery of Seattle Washington with his two cats and a son to whom he is an endless source of embarrassment. The cats for all intents have stoically accepted his prurient interests, stirring only occasionally at the occasional reference to pussy.