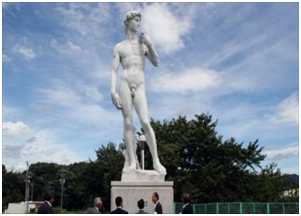 Okuizumo , a smalltown in western Shimane prefecture received five-metre (16-foot) replicas of David and of Greek treasure the Venus de Milo, as donations from a businessman from the area.
The two statues, however, have unnerved residents, with some calling for the naked masterpiece to be given underpants.
The statues were put up in a large public park that also includes a full-size running track, a baseball stadium, tennis courts, a mountain bike course and a play area for children.
"Some people have told the town's legislators that toddlers are afraid of the statues because they are so big and they appeared unexpectedly over the summer," noted town official Yoji Morinaga."They are statues of unclothed humans, and such pieces of art work are very rare in our area. Some people apparently said the statues might not be good for their children," he said.
While many locals have welcomed the new cultural additions to the mountainside town of fewer than 15,000 residents, some have asked for David to wear underwear to preserve his modesty, the Yomiuri Shimbun said.
"It is the first time we have had anything like this in our town. Perhaps people were perplexed," Morinaga said.
Suggestions:

Could a bra also be in the offing for Venus? You never know.
Been there… done that. Shades of John Ashcroft who as Attorney General under George W. Bush draped the figure of The Spirit of Justice to block its viewing.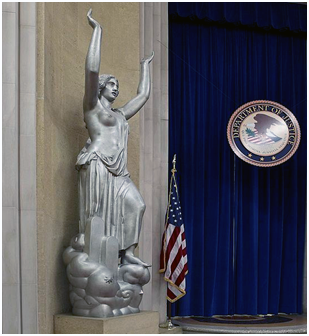 Is it wrong for statues to be nude? Join the idiotic debate here: http://idebate.org/discussions/philosophy-and-religion/it-wrong-statues-be-nude
Enjoy this article? Don't stop now. There's lots more awaiting you. Run, don't walk to
www.bawdylanguage.com
.