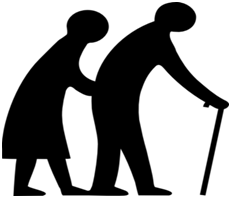 Darken the room. Close your eyes. Sex between people over 90 ain't pretty.
Dress is critical; flannel, de rigueur. Avoid nightgowns or pajamas with Hello Kitty on them.
Remove your dentures. This can keep you from accidentally swallowing them during a critical moment or having them inadvertently slip out and attach themselves to an embarrassing part belonging to your partner.
Have a feather duster nearby to clean away assorted cobwebs and dust which have accumulated since you last had sex.
Remove all IV tubes, lest your partner get the wrong idea.
Use a fine lubricant. Have you considered axle grease?
Let it all hang out. (It probably will anyway.)
Avoid positions such as 69 or reduce them proportionately to the age of the practitioners. 33 1/3 rpm might work better for you.
Do not light up after sex, especially if your oxygen tanks are nearby.
Be brave. Forget about death. You could be coming and going at the same time. Such a deal!
Now that you are no longer a first-timer, consider taking up swinging.
Condoms? You never know. Child-support can be a bitch at any age.