Hoping to discourage paparazzi from photographing him, shock rocker Marilyn Manson today penned the words "Fuck You" in huge black letters across the bottom half of his face.
Alas, they photographed him anyway, pixellating the words. Unbeknownst to him, however, some unknown punk had beaten him to the punch.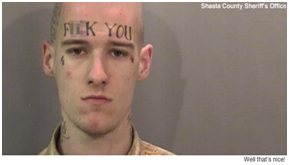 Manson was hardly the first celebrity to try this. Back in the 60's, Abbey Hoffman did it. Before him, the great comedian and social activist Lenny Bruce protested a court appearance on obscenity boldly in the same manner.
For more on the subject, start fucking around with my book. Another option is a short youtube video.
It's essentially my chapter, "The Big F," almost word for word as it appears In Bawdy Language and its predecessor, The Erotic Tongue. Alas, the folks who borrowed it didn't know how to spell etymology. Otherwise, it's not bad.
You also might want to check out the little known but great documentary on the word. The trailer can be found here:
Those of you given to pirating can also download the entire movie here.…Fuck yes!
Dr. CB