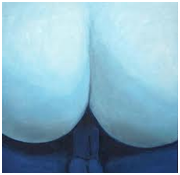 Source: The Women's Sartorial Guide to Sex, June 21, 2012, pp21-25, "A Real Bust?" Dr. Erin Bazooms, Zaftig U.
Study Subjects: 25 pole dancers and young starlets, 25 middle aged men.
Research tools and measurements: journals, sexual partners' evaluations, ruler measurements of penile length and depth of penetration, baking thermometers, moistness quotient of vaginal area gauged by dew-meters.