1900
Shot by an anarchist while standing on a Brussels railway station, The Prince of Wales utters the immortal words, "Fuck it, I've taken a bullet."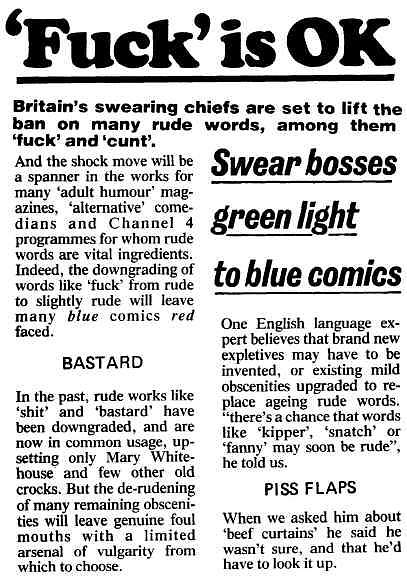 1936
Music hall comedian Hector Thaxter becomes the first man to say "Arse" on the radio.
1947
After cutting food rations as part of a new economic drive, Chancellor Hugh Dalton is accosted by a beggar in the street who says, "You bloody bastard! What am I meant to do, eat shit?"
1957
Interviewed live on BBC News, a British teddy boy is asked his opinion of Bill Haley. He replies, "Haley? I wouldn't piss on him if he went up in flames. I'm an Elvis man meself."
1965
Appearing on a late night live satire programme called BBC3, Kenneth Tynan becomes the first man to say "Fuck" on TV. A national fit of apoplexy follows with one Tory MP suggesting that Tynan should hang!
1967
After watching an episode of "Till Death Us Do Part" that includes 44 uses of the word "BLOODY", Mary Whitehouse fumes, "This is the end of civilisation as we know it."
1969
Buzz Aldrin becomes the first man to swear on the moon "Bloody hell," he tells Neil Armstrong, "I've just taken a shit in my space suit."
1972
Oxford English Dictionary includes the words "FUCK" and "CUNT" for the first time. The National Campaign for Real Swearing issues a statement which reads: "We'd be a bunch of lying cunts if we didn't say that we were totally fucking delighted."
1974
Originating from the Australian "Nasty as Fuck", the word NAFF is introduced to the British public via Ronnie Barker in Porridge. As in "Naff off Godber!" However the expression looses its appeal when Princess Anne starts using it.
1976
On tour in Hong Kong and unaware that he is miked up, The Duke of Edinburgh tells a photographer  "Fuck off or I'll have you shot." 
The moral majority get into a proper old lather after Steve Jones of the Sex Pistols appears on live TV and calls presenter Bill Grundy "A fucking rotter".
1979
A Bar steward at a Conservative Club in Middlesex is sacked after greeting a club member with the words, "All right, you fucking old bastard, we haven't seen you for fucking ages!" He is later ruled to have been unfairly dismissed on the grounds that his words "were just a form of greeting".
1982
British Leyland workers begin their so-called swearing strike after one of the top brass describes them as, "fucking bastards and fucking working-class pigs".
1983
Jools Holland lets slip with the phrase "Groovy fuckers" on a live broadcast of The Tube and is suspended for six weeks. 
A Pakistani umpire calls Mike Gatting "a fucking cheating bastard" during a Test Match.
1990
Female golfer Muffin Spencer-Devlin is banned from a top ladies tournament after calling officials, "A fucking bunch of incontinent wankers!".
1991
Rev. Ian Gregory, secretary of The Polite Society, proposes that existing swear-words are banished and replaced with "nice words like 'breadstick' and 'cotton socks'". A spokesman for The National Campaign for Real Swearing responds by saying "The good reverend can go and fuck himself!".
1993
Pete Sampras, the world's top male tennis player, shouts at the Wimbledon crowd, "Thank you very much, you mother fuckers!" 
A Briton in Saudi Arabia is sentenced to 40 lashes after telling a member of his staff to, "Stuff it up your fat arse you old wanker". 
Boston grunge band, The Anal Cunts, release their first single.
1995
Annoyed at the constant chattering of children during a performance of "Macbeth" at a Manchester theatre, actor Paul Higgins strides to the front of the stage and bellows, "Shut the fuck up or I'll rip your fucking heads off!"
1996
Students hackers tinker with the digital storage system at Britain's first talking bus stop in Leeds, with the result that a queue of passengers expecting a recorded timetable are greeted with the words, "Fuck off and walk you lazy bastards".
1999
With the advent of Channel 4's "Bremner, Bird, & Fortune" and "The Eleven O'clock Show", all known swear words are finally used openly, in entertainment television.
The National Campaign For Real Swearing comments "About fucking time too!"
By Dr. Bawdy and Laughingpoliceman
Directly from the desk of Dr. Bawdy – http://bawdylanguage.com/blog