Directly from the desk of Dr. Bawdy, the world's foremost authority on sex—says he.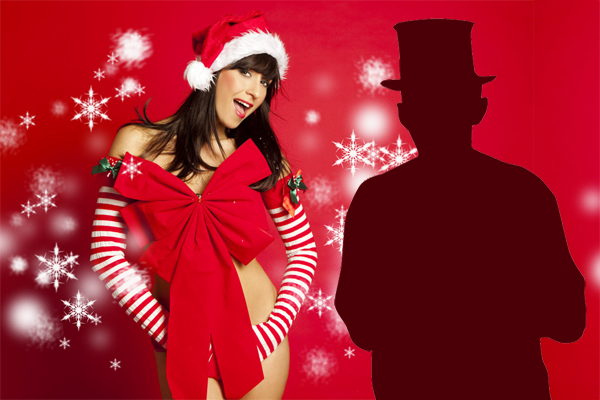 Dr. Bawdy's recommended Xmas wish list, feel free to use it as a New Year wish list.
1. Obama Dildo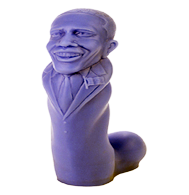 For the tea party couple who has everything: Better than even a one-way trip to Kenya. Why settle for strangling government in the bathtub? That's not real fun anyway, and when was the last time you heard anyone getting off on that. Simple is better. You also know what you can do with this gift. So go for it!
2. Erectile Quality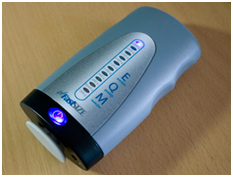 A little something for the little lady: Looking for new ways to humiliate your lover, boyfriend, husband, or whatever you call your male companion? Psychological castration is so passé. Go high-tech this year with the ultimate put-down—the Erectile Quality Monitor — emasculate him in style. Just press the gizmo against his alleged erection for five seconds, check out the color-coordinated censor to see how many grams of force he's packing down there, and tease the hell out of him.. Anything in the blue zone shows he's ready to go and is prepared to provide "good for great sex"; red, well, that's another matter altogether—better to call the whole thing off and see what's playing on TV or better yet, just dust off the old vibrator.
3. Oral sex light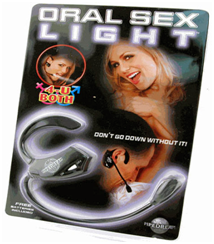 Have you ever taken a real good look to see what's down there? Isn't it about time you did? Muff-diving will never again be the same after you've used this delightful bit of technology. Explore the multi-tasking possibilities; check out the geography while also catching up on the latest from the NY Times best seller list. Don't let the darkness daunt you. Shed some much needed light on a subject that for too long has been in the dark.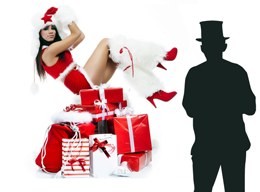 Silent Night… Bawdy Night
4. Lick-It Vibrator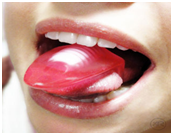 No need to any longer be tongue-tied during oral sex. The lick-it vibrator is designed to give some straightforward power to those little darts of pleasure.
The teaser slips easily over the tongue and offers 40 continuous minutes of vibration. While giving your partner oral sex, the vibrations will enhance the joy you are offering with your limited oral techniques.
Looking to be multi-lingual? Add multiple tongues by buying more than one and putting them on your fingers or your nose. Made of 100% silicone, it's designed to fit tongues of all sizes and shapes. It measures 2" in length and 1.25" in diameter.
5. Bad Bat Vibrating Cockring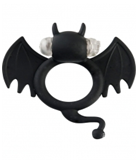 For fans of True Blood, Twilight, and just plain suckers, we offer a spooky cockring, in the form of this stretchy silicone vibrating BadBat .
Runs on two AG3 batteries. Two are included but order more so you'll be set when you need 'em!
This toy is made of 100% silicone. Pure silicone toys are non-porous and can be washed with soap and water or toy cleaner. The non-vibrating part can be sterilized in boiling water or in the top rack of your dishwasher. 100% Silicone is latex & Phthalate-free and safe for most people with chemical sensitivity.
So flap your wings for a gift you can truly sink your teeth into for a firm but batty XMAS.
6. Male Chastity Belt/Wood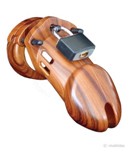 Get a lock on your lover with the wood-finished CB – 6000 which is, without question, the ultimate luxury Male Chastity Belt available. The solid wood finish is stunningly textured and irresistibly designed for control over male chastity. Wearing a chastity belt is extremely erotic! Surprise him, tease him and ignite that sexual tension… He will be lik ea teenagers again, pleading for mercy of your teasing. Put new meaning into the term "woodie." Order one for him today!
8. ET Self-Pleasurer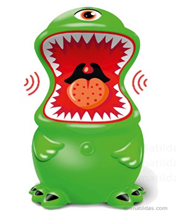 For a gift for your man that's truly out of this world: This extraterrestrial creature will provide him with supernatural sensations when he embarks on solo pleasuring! The Man Eater male vibrator has a form-fitting mouth meaning he's able to stimulate any size with his vigorous vibrations. A waterproof and easy to grip body puts this alien from Big Teaze Toys on our A-list for fun male masturbation toys. Take a break from earth by venturing into orgasmic outer space with the intergalactic Man Eater vibrator! Looking for a unique Christmas present for him? This will certainly be something he wouldn't expect in his Xmas stocking!
9. My Duckie Bondage Vibrator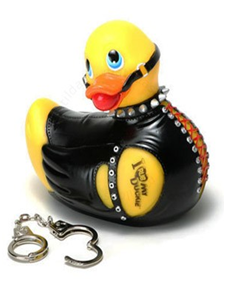 For your lover who has everything. Combine the joys of Band D with his childhood love of toys. Your old rubber ducky has been retrofitted with some daring bondage gear, including a bondage ball gag, a leather coat, a wild tattoo, and mni-cuffs! Whether you're after a solo massage or a soft entrance into bedroom bondage play, this duckie has it all. I Love My Bondage Duckie is a waterproof companion that will have you floating on purely pleasurable waves of naughty vibration.
Best yet, it's so easy to use. It's so simple a child can do it: Blindfold your lover and start with the beak of your Bondage Duckie. Use the beak on the neck, lips, ear-lobes and nipples. It's also incredible for light, toe-curling clitoral stimulation. You can then use the tail for the more intense, throbbing sensations for a more in-depth massage!
10. Dolly the Luv Sheep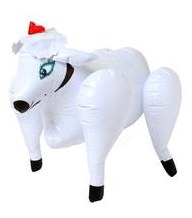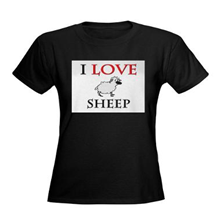 Take the baa-humbug out of the holidays. For the sheep lover from the city: Dolly, the luv sheep. This adorable inflatable sheep is great for bachelor and bachelorette parties! It's water-resistant so it can be used at naughty pool parties as well and hold up well for poundings from the rear. Dolly's personality is great with bright colors, a very happy face and a cheery disposition. She's a really good laugh and will brighten any party. This is one of our favorite inflatable novelties!
11. Vibrating Pleasure Panties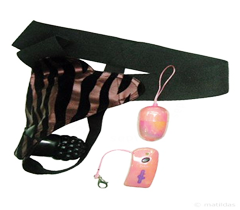 A real turn on for the holidays. Imagine wearing these to work, with your partner knowing that you are buzzing the whole day, you can each be filled with the anticipation that when you get home you will both be turned on.
We love the concept of the vibrating egg with the small insert vaginal sleeve. The panties are not that pretty we're afraid! But who cares! The one-size-fits-all concept is difficult to achieve with a product like this. It's definitely worth a laugh – especially if you give the remote to someone else. Order this great gift and tickle her fancy now!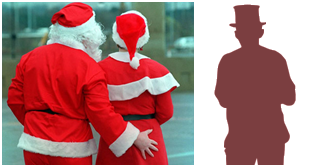 Nothing beats a bawdy to bawdy XMAS
12. Hotdoll: The Sex Doll for Dogs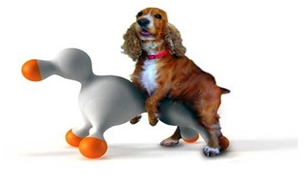 Tired of your dog humping anything he can wrap his horny little legs around? Struggling to pry your promiscuous pooch off the legs of guests, parents, and members of your church? Protect your leg and those of your dearest friends from a hump attack by getting him a Hotdoll.
Yes, at long last, a sex doll for dogs. Shaped like a dog, it'll allow your tension-filled pet to go to town as much as his little heart desires, humping away until he passes out in a state of exhaustion, leaving only a wispy coil of friction-singed dog-fur smoke wafting into the air. Don't bark up the wrong tree this holiday—buy your best friend what he most needs – for a XMAS he can truly get off on.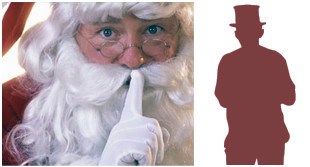 Naughty or Nice? Only Santa and Dr. Bawdy know which
Stocking Stuffer
Musical Condoms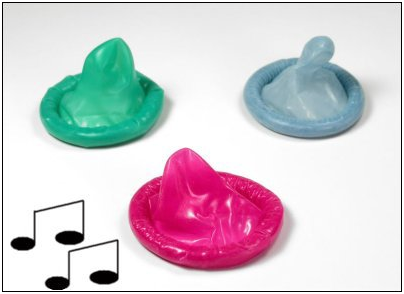 Thanks to the inventive genius of Hryhory Chausovsky, a scientist in Ukraine, we can truly make music while having sex.
A miniature loudspeaker and motion sensor implanted in the condom's upper cuff provides a range of musical tones during sex. Music volume depends on intensity of love-making and tone varies based on the sexual position. Unfortunately, there appears to be no danger of electric shock to users of the device.
The sound right now is somewhat primitive, similar to the way early cellphone ringtones sound. But we have heard the future, and the future is now. Coming soon to a bed near you—heavy metal, folk music, and soaring symphonic crescendos. Though there is also the possibility of sour notes and cacophony for those with tin ears.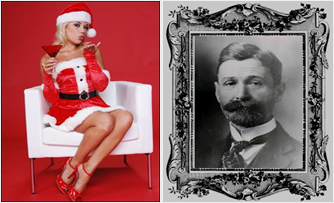 May you find who you like in your XMAS stocking
The best for you and yours…
Dr. Celestial Bawdy and Friends