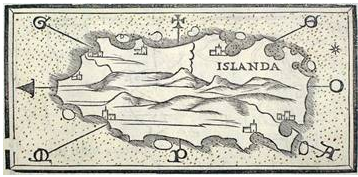 Warning! To those of you contemplating a vacation in Iceland and who are thinking of bringing your laptops with you.
According to the European statistics reports, Iceland is one of the most advanced countries in terms of number of internet users. 95-98% of the country's population has the access to the internet. At the same time, according to national statistics, 14-year-16-year olds there spend more time on porn websites than teenagers in other European countries.
Iceland is determined to do something about this. Idle hands—as we all know—are the devil's plaything. And God knows what those teenage hands are busy doing.
So, in a hands-on approach, the country has taken steps to ban online pornography. Critics of censorship in the internet say that if this bill is approved, one of the coldest European countries will become even colder.
The draft law can be adopted this spring. When it comes into effect all porn-websites will be banned and their IP-addresses will be blocked. It will be no longer possible to pay for the services of porn suppliers using credit cards of Iceland's banks.
To those who claim that it is impossible to ensure such a ban technically, the minister's senior adviser, Halla Gunnarsdóttir, noted how if humans managed to send a man to the Moon it is definitely possible to banish porn from the Internet. Nothing new here. Printed pornography was banned on Iceland about 10 years ago. And the Interior Minister Ögmundur Jónasson has already made a mark with a number of bans. In 2009, his government banned prostitution ( criminalizing those who pay for sex) and in 2010, strip clubs.
Ironically, it was Scandinavian countries namely Iceland's closest relatives Denmark and Sweden where porn expansion started the 1960s.
Ironically, too, in that Iceland is home to the world's largest display of penises and penile parts. Check it out people! Here: (http://www.phallus.is/)
As for me, I'm heading to Thailand. Penises be damned! … by Doctor Bawdy