The smallpox epidemic of the 16th-17th century resulted in considerable fallout in the most exotic places, claiming pubic hair among its many victims. Thoroughly embarrassed by their baldness, women fashioned artificial hairpieces known as merkins, a term which had also long been a long-standing name for the female genitalia (you know, the old vee-jay-jay, hoo-hah etc.).
Merkin later made a brief appearance as the name of the President of the Unites States in the film Dr. Strangelove, as Merkin Muffley (which translates loosely as "cunt cunt.") A curious turnabout, since Presidents have traditionally been seen as pricks rather than cunts. Interesting too that a cunt should be the only voice of restraint and moderation during a time when the world was perched at the brink of nuclear destruction.
Currently, the only epidemic raging appears to be one of consumerism and general madness. And for m'lady who has everything including a fine bikini wax, the genius of American marketing, having successfully removed her hair, now offers it back to her to at a special price. And you know what you she can do with it.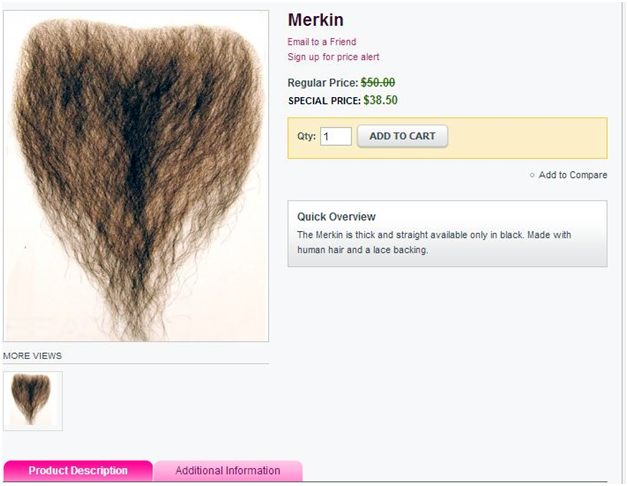 Enjoy this article? Don't stop now. There's lots more awaiting you. Run, don't walk to www.bawdylanguage.com.